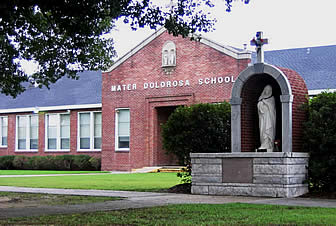 Our Motto: Enter To Learn, Exit to Serve God
Mater Dolorosa Catholic School is Catholic in our culture and community spirit. Academic attitudes and instructional programs are built on this strong foundation of Christian principles. Our primary goal for our students is the development of the total person through programs that nurture spiritual, intellectual, emotional, social, and physical growth. As future leaders, students must first learn their faith by serving as Jesus did.
Statement of Non-Discrimatory Policy
Mater Dolorosa Catholic School admits any and all students of any race, creed, color, nationality, ethnic origin, gender, and or all the rights and privileges of activities available to students enrolled at this school. It does NOT discriminate on any religious basis in administration, faculty, or staffing of the school's educational policies, assistance programs, athletic involvement, or any other school-affiliated activities.